Modified Live @ Snetterton – Sat 22nd & Sun 23rd September 2012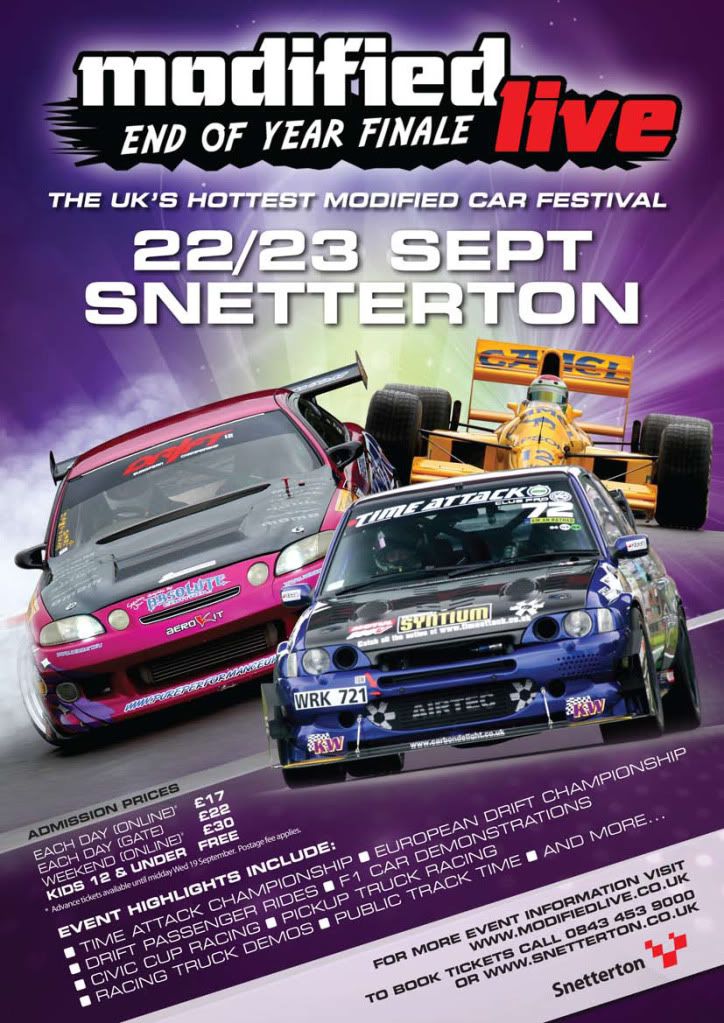 The final one of 2012 - Snetterton - The End of Year Finale!
For the fifth year Modified Live returns to its home at another of the UK's most famed racing circuit. Playing host to a vibrant event full of varied activities and everything petrol-head, Modified Live at Snetterton has a great reputation as the last one of the year to being the show season and Time Attack / Drift seasons to an almighty close in style.
Featuring the finals of both Time Attack and the European Drift Championship, the on track action is non-stop with the Civic Cup Championship as well as Pickup Truck Racing and entertainment by 1000bhp racing trucks, stunt bikes and much more - if you have been there before - we know you'll be back for this year. With over 6,500+ people attending last year, the venue was busting at the seams, please book early to save your club or trade space, it's going to be a big one!
This year, the event extends to two days for the first time - with the Saturday utilising the new 3 mile '300' circuit. Snetterton was transformed in 2011 with the creation of a new infield circuit and huge elevated spectator banks.
What to expect:
Time Attack Championship
European Drift Championship
Civic Cup Championship
Pickup Truck Racing (Sunday Only)
Formula 1 Live Action
Drift Taxi Rides (Sunday Only)
Emergency Services Road Traffic Collision Display
Super Car Paddock
Public Track Time - (£25 per session) 20 min sessions on the 300 circuit 1pm & 5:30pm (Saturday Only)
Club Vs Club Competitions - FREE to Enter
Show & Shine – Best In Scene - FREE to Enter - Contact Kleers
1000bhp Racing Trucks Demos
Get Dyno'd by lsv8power!
Dedicated Tuner Village
Dedicated Trader Village
Crowning of the Time Attack and European Drift Champions of 2012 (Sunday Only)
Car Club Displays & So much more!
Location: Snetterton Circuit, Norwich, Norfolk, NR16 2JU
Date: Saturday 22nd & Sunday 23rd September
Ticket Prices are as follows:
Sat 22nd September (Advanced) - £17
Sat 22nd September (On the Gate) - £22
Sun 23rd September (Advanced) - £17
Sun 23rd September (On the Gate) - £22
Sat 22nd & Sun 23rd September - (Not Inc Camping) (Advanced ONLY) - £30
*** Sat 22nd & Sun 23rd September - (Inc Camping Friday & Saturday) (Clubs ONLY & Advanced ONLY) - £40
*** (Camping is £5 per night but must be booked in advance, you can NOT pay on the gate, this is to offer camping for those clubs coming far and would like to stop over. All Car Clubs can arrive from 6:00pm on the Friday 21st Sept if camping - There is NO evening entertainment.)
Advanced Club bookings are available until 1pm on Wednesday 12th September 2012…
The deadline is creeping upon us fast now… After this date you can still purchase your tickets at the standard rate on Snetterton's online ticket shop however you won't be entitled to a club stand...
If you are part of a club or a large group then get in touch with >>
nicola@modifiedlive.co.uk
<< for more information on how to book a club stand or information regarding camping.
DEADLINE FOR CLUB BOOKING'S IS WEDNESDAY 12th SEPTEMBER @ 1PM
For more information what's on visit
http://www.modifiedlive.co.uk